We have discussed before how to prepare for a hike if you are taking your pet dog with you. In this blog we will be looking at what comes after that i.e. the actual hike. Once you have made all the preparations and started the journey, you should follow a few guidelines that experienced hikers have talked a lot about. Especially those who go hiking with dogs regularly and know their stuff.
Before we begin, you should remember one thing. Never try to take more than one dog when you are going for a hike on your own. Only if there are more than two people in a group then you can think about taking multiple pets. But even then, it is strongly advised to keep the number of pets less than dogs.
The best option is to take no more than two dogs at the same time. Any more than that can create a pack mentality which may not be safe for other people on the trail.
How to Use Dog Accessories When Hiking With Dogs
Keep the Leash On
You may be inclined to let your dog run free for a while when hiking. After all, you are in wilderness and on a trail. However, you, your dog and everyone else on the trail is much better off when pets are on a leash. There have been many reported incidents that lead to a pet dog barking at or even attacking other hikers. That's why we recommend having a leash with you at all times. Ideally, the best leash for hiking with dogs is one that is 10 feet or shorter.
Dog Booties
Your dog's paws might get hurt if the ground becomes too uneven with lots of little rocks along the way. One way to prevent that is using dog booties i.e. boots for dog's paws.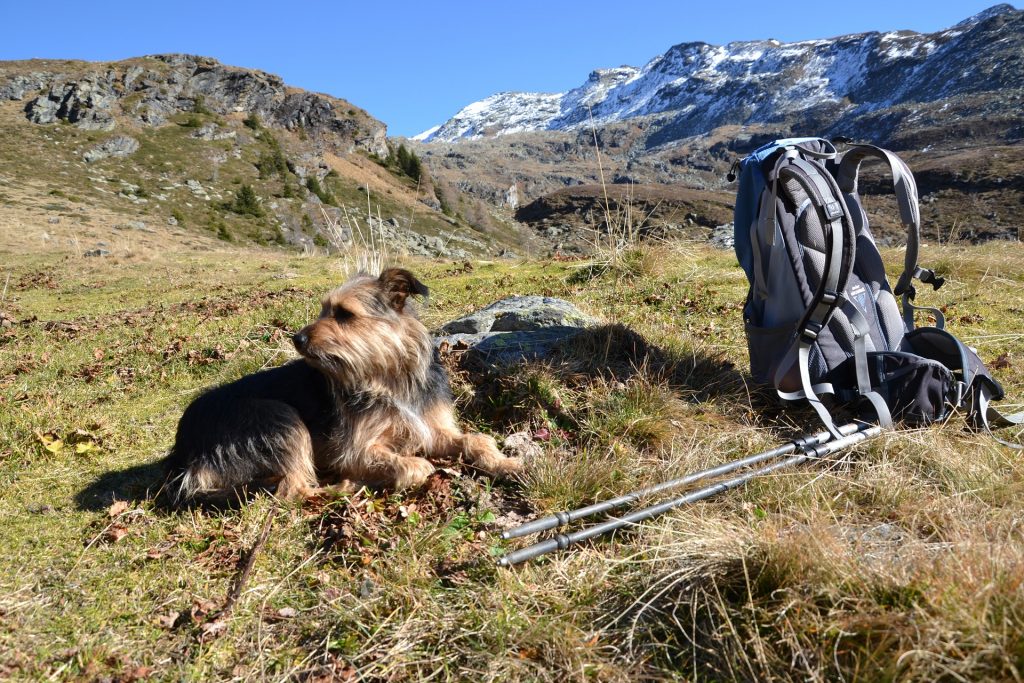 How to Keep Your Dog Safe and the Trail Clean
Plants Trampling
When you are on a hike, you can usually discern pretty easily where the tracks are. However, when it is not so obvious or even when you encounter plants and fresh grass on the tracks, try to make sure your dog doesn't trample them. You may also need to prevent your dog from chewing on the wild plants depending on the natural quirks it may or may not have.
Food Water and Rest Breaks
On longer hikes, taking breaks become critical but they are advisable for comparative shorter too. Whenever you make a stop to drink some water, give some to your dog too. Dogs don't let much on if they are mildly fatigued so it is up to you to keep it hydrated.
Similarly, take a food break during the hike if it warrants one and give your dog some dog food, not a piece of your own sandwich, but dog food. If you can combine a rest break and food break, all the better for you. Also, don't forget to rest every now and then, especially if your dog isn't the fittest or new at hiking.
Dog Waste Clean-up
Clean up your dog's waste if it is anywhere near the tracks when hiking with dogs. Sometimes dogs get a little wild and start to relieve themselves wherever they feel like it. You have to be stern in this respect and only allow your dog to do its business away from the main traffic routes and water sources. Follow the "Leave No Trace" (LNT) principle.
Keep Away From Water and Wet Areas
Don't allow your dog's feet or body to get wet. Don't allow it to drink from puddles and streams. It can cause diseases and sickness as the dog may not be able to handle it. However, it is difficult to stop a thirsty and hot dog from doing that even when it's on a leash. That's why you must keep them hydrated and cool throughout the trail.
Safety from Wildlife
It is understandable that you may encounter wild animals during the hike. Keep your dog safe when that happens. Ideally, maintain a safe distance from the wild animal and don't waver from the designated tracks.
You can learn more about taking care of pets when not on a hike and in general. Visit our website Sunnydayspets.co.uk.